THE TM5 IS IDEAL FOR TIMING & SHUTTING DOWN ENGINES AFTER A PRESET TIME AND STILL GETTING FULL OIL AND TEMPERATURE PROTECTION.
Suits Diesel or Gasoline engines, air or water cooled
Features:
- 48 HR RUN TIMER. TM5's Run timer can be set to stop the engine anywhere from 1 minute to 48 hours.
- TEMPERATURE READOUT. Reads current engine temperature on demand
- TEMPERATURE SHUTDOWN. If the engine temperature goes higher than that set in the TM5 the engine will stop ('Easy Fit' sensor supplied).
- SERVICE COUNTER & ALARM LIGHT. The hours the engine has run since its last service can be displayed on demand and a light will indicate when the next service is due. Programmable in 50 hr increments to 500 hrs (counter needs to be reset to zero after each service).
- OIL STOPPING INPUT. The TM5 has a input that requires a signal to ground on low oil pressure, an inexpensive oil light sender is used (car type) or if you have an oil light it is simply tagged onto the existing sender.
- AUXILIARY STOPPING INPUT. The TM5 has a spare stopping input used for any purpose that switches to ground on a fault, such as a Murphy high-low water pressure switch on a water pump (see pricing for a water pressure switch).
- START BYPASS. TM5 has a 60 second bypass mode on engine start up to allow the engine and pump pressures to stabilize before the engine protection circuit starts.
- FLEXIBLE STOPPING OUTPUTS. The TM5 is flexible enough to stop most engines. It has two stopping output modes. Either stopping Option A.- where the power is normally ON while the engine runs and then OFF in an emergency (ideal for controlling fuel solenoids). Or stopping Option B- where the power is normally OFF while the engine runs, then ON for 15 seconds in an emergency. When used in association with an inexpensive slave relay, output B is ideal for controlling heavy decompression solenoids or electric stopping circuits.
- STARTING BATTERY ISOLATION OPTION. The TM5 has the ability to totally isolate the starting battery after shutdown. If the ignition key is still in the ON position after shut down, this option ensures there is no on going drain on the battery.
- STARTING THE UNIT. The TM5 can be manually started by pressing a button on the unit or wired to come on via the ignitions start position.
TM5 INSTALLATION & WIRING DIAGRAM | TM5 OPERATING INSTRUCTIONS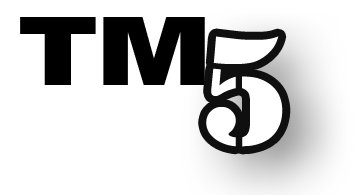 The TM5 is now Superceded
by the model TM7
See link above
Size:
150x150x90mm. (6"x6"x3.5")

Lead length:
1.8m (6ft)

Max Temp:
125C

Suits:
12 or 24 volt systems